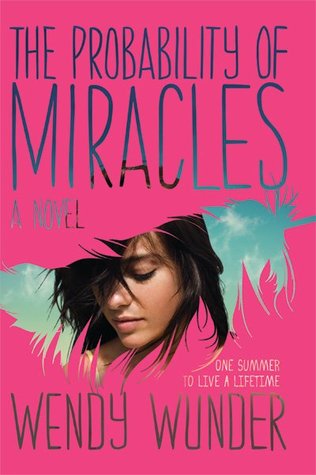 Title: The Probability of Miracles 
Author: Wendy Wunder
Genre: Young Adult Fiction, Contemporary
Publication Date: December 8th, 2011
Pages: 360
Publisher: Razorbill
Rating: 
Seventeen-year-old Campbell has had cancer since she was twelve. After all the chemotherapy, drugs, and trials the doctors say she won't make it to her eighteenth birthday—unless a miracle occurs.
And Cam doesn't necessarily believe in miracles. Growing up at Disney Word—the most magical place on earth—she's experienced her parents' divorce, her father's early death, and well cancer. Cam is all about cold hard reason.
And while Cam doesn't believe in miracles, there are other people that need to—her family. After acupuncture, herbalists, reflexology, and a distance healer Cam's mother Alicia settles on Promise, Maine—1,500 miles away and a town known for its miracles.
And strange things do start happening—purple dandelions, sunsets that last for hours, flamingos resting in the Atlantic, a mysterious bucket list-esq envelope, and the adorable Asher.
Wendy Wunder's debut novel The Probability of Miracles is hilarious and heartbreaking all at the same time.
Cam has a clipped and sarcastic sense of humor, which is the main reason I really loved her. The novel is a mix of her completing this Flamingo List—a younger version of a bucket list—she created with fellow cancerous best friend Lilly and creating miracles for her family. It is in this aspect that the book really differentiates itself; making a statement about those you leave behind.
"If you believed that thoughts were energy and energy is matter (E=mc2) and matter never disappears, then a person can never truly leave you unless you stop thinking about them."
I didn't mind Asher—the local boy with a tragic past—as a love interest, but I wasn't like on the edge of my seat about their relationship status. For me it started a little too late in the story, but either way their romance was that awkward-but-cute type, and in the end their relationship was just another way to showcase how cancer affects those who are close to the patient.
You will be ruminating on the possibility of miracles long after you finish this read.
You can find The Possibility of Miracles on Amazon. Give it a read and let me know what you think in the comments. Plus leave recommendations for my next book!