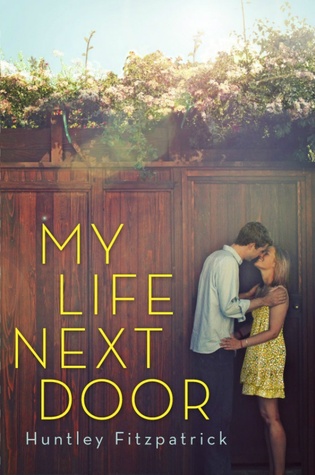 Title: My Life Next Door
Author: Huntley Fitzpatrick 
Genre: Young Adult Fiction, Contemporary
Publication Date: June 14th, 2012
Pages: 394
Publisher: Dial Books For Young Readers
Rating:
Seventeen-year-old Samantha Reed lives a scheduled and stable life—which is made sure of by her mother, an on the rise local politician.
Next door, the Garretts—ten in total—are loud, wild, messy, and alluring. Samantha watches from afar, but never participates. That is until gorgeous and insightful Jase Garrett shows up on her roof.
From then on out, Samantha finds herself inserted into the Garretts' life—babysitting George and Patsy, giving Andy dating advice, and falling for Jase.
Thankfully, her disapproving mother is too distracted by her current campaign and new boyfriend Clay to notice. That is, until tragedy strikes and Samantha is forced to reconcile her old life with her life next door.
Huntley Fitzpatrick's 2012 debut novel, My Life Next Door is a surprising and satisfying summer romance.
Samantha and Jase's relationship evolves very naturally. The two start becoming more involved in each other's lives and it just progresses from there. I really enjoyed the more awkward, yet honest scenes that Fitzpatrick incorporated.
For example, there's a scene in which Samantha and Jase go to buy condoms together. It's an experience completely new to both of them, and definitely awkward, but I think that scene as well as others really illustrates how serious they are about their relationship. Even when put under strain, the pair always tries to do what is best for each other, which I found very mature.
I also really enjoyed the supporting cast of characters. The Garrett children were great and all had really distinct personalities. There's also an interesting conflict between Samantha's best friend Nan her brother Tim, who has become a druggie dropout.
The story takes a very unexpected and serious turn, which I enjoyed but also thought happened too far into the story. It made the ending and resolution seem rushed.
Despite that, I really enjoyed My Life Next Door and Fitzpatrick's writing style. I can't believe it took me almost four years to pick it up.  I've already finished her other novel What I Thought Was True, and plan on reading My Life Next Door's companion novel The Boy Most Likely To soon.
You can find My Life Next Door on Amazon. Give it a read and let me know what you think in the comments. Plus leave recommendations for my next book!